RGC Consulting is Australia's leading firm of professional consultants providing services in the management of Furniture, Fittings and Equipment (FF&E) to large scale commercial building developments. We work across all projects requiring professional management of the FF&E scope of works. Projects include Hospitals, Correction Centres, Universities, Defence Force, Convention Centres, Cultural Facilities, Hotels and Offices.
The RGC Consulting difference:
We specialise in FF&E
Project-wide integrated data capacity
Government project qualified
Open book documentation policy
A focused project management culture
Local focus, global capacity
Large scale, high value project capabilities
Integrated team player
BIM compliant
Over 30 years and 160 projects
RGC Consulting services include:
Cost planning and budget preparation
Master list development
Decant programming and scheduling
Specification documentation including ecologically sustainable development compliance
Life cycle cost analysis
Product sourcing
Tendering, tender analysis and procurement
Quality control during manufacture
Expedition, delivery and placement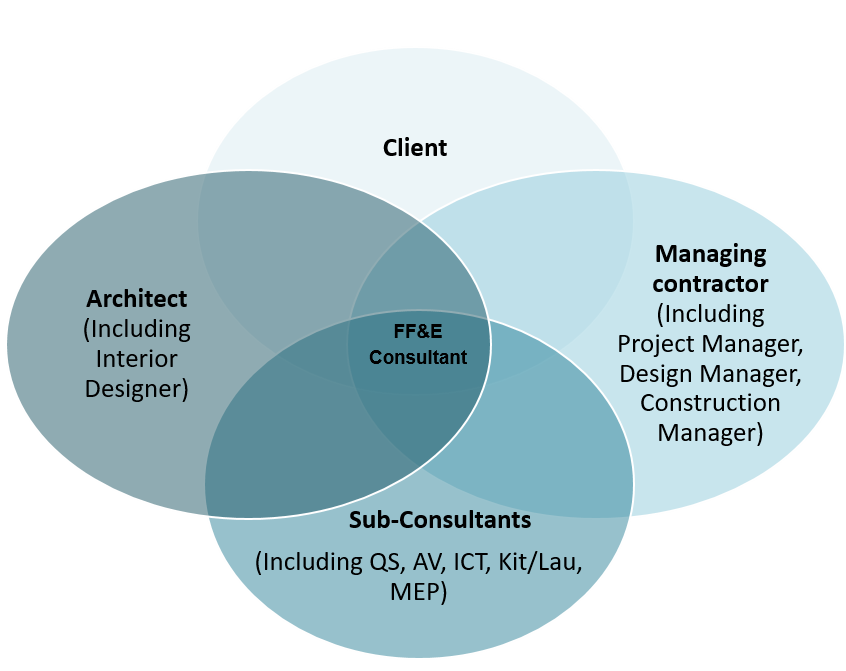 The experience gained from a diverse range of project types enables us to be responsive and flexible to the changing needs of different industry sectors and localities. We have the capacity to adapt our scope of work to suit the projects specific requirements and client brief.
Personalised service, professional approach
Our senior project directors are involved in every stage of each project, ensuring a personalised service that is compliant to the clients brief and scope of works. The project is further supported by a dedicated senior project manager and team of qualified consultants.
Risk minimisation strategies are implemented throughout all phases of the project. From our detailed brief through to our sophisticated computer-generated scheduling, critical path analysis, contract plans and reporting, we achieve on time cost effective results conforming to the clients brief and date for practical completion.
RGC Consulting ensures that each project, however unique, utilises defined project methodology so that each step in the FF&E process is undertaken and controlled in a consistent way.
RGC Consulting is a member of the Chartered Institute of Purchasing & Supply (CIPSA) and ascribes fully to the commitment, guidelines and principles of this industry body in all its business dealings. For the Project Manager, Client and Builder, this translates to complete confidence in the professional undertakings for RGC Consulting in its dealings with suppliers.
Prequalification (PQC) registration
RGC Consulting is recognised as an expert in the field of Furniture Fittings and Equipment by State Authorities. The Department of Public Works, Queensland State Government, recognised our "Commitment to Continuous Improvement" by awarding RGC Consulting PQC status.
Founded in 1992, the RGC Consulting team has acquired significant experience in major construction and development projects. We have provided services to most of Australia's first tier builders, leading architectural practices and government authorities. Our projects include works for both the private and public sectors.
The consultancy has completed major project work in Australia, New Zealand, Fiji, China, Indonesia, Malaysia and the United Arab Emirates. We are experienced in offshore procurement and project management across different cultural and project delivery expectations.
The Scope of Works is commissioned by project stage and includes Preliminary Design, Schematic Design, Design Development, Contract Documentation, Construction and Post Construction works.

The overall FF&E Scope for Planning and Design Phase includes, but is not limited to:
Cost planning and budget preparation
Master list development
Decant programming and scheduling
Specification documentation
 Life cycle cost analysis
Producing the design solution within the agreed FF&E master list and project budget in conjunction with the consultant team and the Principal
Maintaining the design process within the project program
Designing in consideration of lifecycle and recurrent costs
Providing technical and/or performance-based specifications for the nominated FF&E items
Liaison and coordination with the consultant team and managing contractor
Consultation with the Principal and Client representatives as required
Attendance at meetings as required
Integrated FF&E management critical path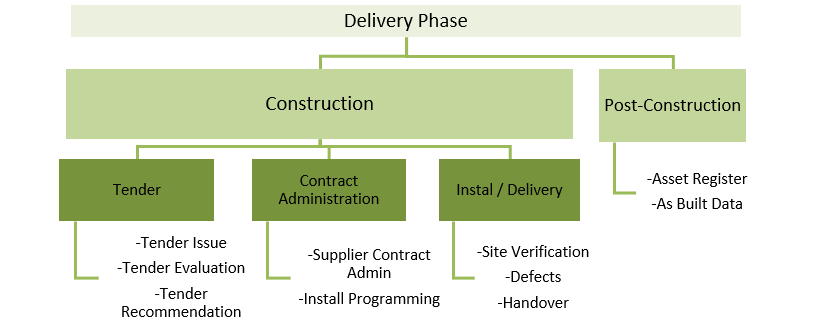 The overall FF&E Scope for DELIVERY PHASE includes, but is not limited to:
Managing the opening and closing of tenders
Tender evaluation and recommendation reports
Quality control during manufacture
Prototype identification, reviews & reports
Product sourcing
Coordinating the FF&E installation program
Defect assessment and audit of installed FF&E
Commissioning, asset registers and handover
Operations and Maintenance Manuals review
Final Certificate of Completion